Over the years, many people have passed through Tommy's doors. Owner, Tommy Fello remembers some of them in the accounts written out below.
Renee (Granny) Horrocks was a very special friend to Coventry Village and was so well loved everyone called her Granny. She lived and worked in the village. I was lucky enough to consider Granny a dear friend and employee for many, many years. She was a beautiful, kind, warm, caring, and loving person.
It just so happens that whenever Tommy's would get a new t-shirt design, she would always add one to her collection. In December, 2006 about 12 years after Granny had passed away, Laura, Granny's daughter, called me and asked if I could come over to her house because she wanted to show me something.
When I went over to her house, I was blown away with what I saw. Starting in 1998 in her spare time, Laura began to create the beautiful quilt hanging in our main dining room. The quilt is made from Granny's t-shirt collection. What a beautiful tribute to her mom's life with Tommy's.
This work of art paints a colorful walk through the history of Tommy's thanks to Laura's 12 year-labor of love.
-Tommy Fello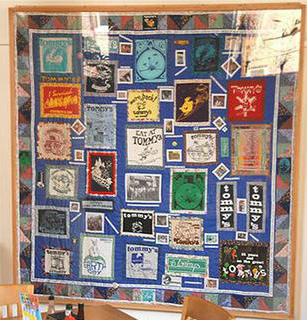 In September of 1977, Tommy's began construction at 1820 Coventry, 1-1/2 blocks north of its first location. It was at that time that a long-time friend and artist Frank Fox would be hired as part of the construction crew.
During remodeling, my job was to make trips to Broadway Wrecking and Salvage Co. to purchase assorted I-beams and angle irons so that Frank Fox could weld and anchor the supports for a balcony that would hold about 35 of our 75 seats. Most of the I beams had stars or mushroom shaped knobs that protruded off their sides. Fox would cut them off so that the beams were able to fit into the notches formed in the walls. Without my knowledge, Fox saved those shapes along with other metal scraps.
Shortly before Tommy's grand re-opening in April of 1978, Fox presented me with this beautiful sculpture. It became affectionately known as the Fox Sculpture and is proudly displayed in Tommy's dining room.
– Tommy Fello